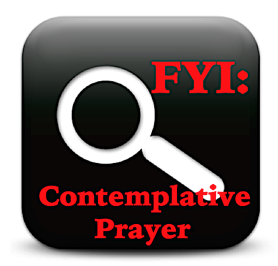 Definition of Contemplative Prayer:  A form of Christian mysticism that allegedly brings about a mystical union with God
The mystical "spirituality" that is so popular in evangelical and charismatic circles today is a yearning for an experiential relationship with God that downplays the role of faith and Scripture and that exalts "transcendental" experiences that lift the individual from the earthly mundane into a higher "spiritual" plane. Biblical prayer is talking with God; mystical spirituality prayer is meditation and "centering" and other such things. Biblical Christianity is a patient walk of faith; mystical spirituality is more a flight of fancy. Biblical study is analyzing and meditating upon the literal truth of the Scripture; mystical spirituality focuses on a "deeper meaning"; it is more allegorical and "transcendental" than literal. — David W. Cloud.
Contemplative prayer (also referred to as centering prayer, breath prayer, meditation or listening prayer) is one of the most esteemed spiritual disciplines taught in spiritual formation. In both practice and purpose, contemplative prayer stands in contrast with what Scripture teaches about prayer. Practitioners believe that one must clear the mind of outside concerns so that God's voice may more easily be heard and that one may be united with the "divine spark" within.
Advocates of contemplative prayer believe and teach that it is a necessary practice if one desires to become more like Christ. In claiming this, however, they often appeal to the practices of ancient Roman Catholic mystic monks rather than the Word of God.
Contemplative Prayer is a prayer of silence, an experience of God's presence as the ground in which our being is rooted, the Source from whom our life emerges at every moment…. Contemplative Prayer is the opening of mind and heart – our whole being – to God, the Ultimate Mystery, beyond thoughts, words and emotions. We open our awareness to God whom we know by faith is within us, closer than breathing, closer than thinking, closer than choosing – closer than consciousness itself.1

Contemplative prayer, in its simplest form, is prayer in which you still your thoughts and emotions and focus on God Himself. This puts you in a better state to be aware of God's presence, and it makes you better able to hear God's voice correcting, guiding, and directing you…. The fundamental idea is simply to enjoy the companionship of God, stilling your own thoughts so you can listen should God choose to speak. For this reason, contemplative prayer is sometimes referred to as 'the prayer of silence.'2
Practice and Technique
Seeks to empty the mind and enter an altered state of consciousness by:
repetition of a mantra;3
focusing on one's breathing;
contemplating images or icons.4
To read the rest of this article and footnotes, click here:  Berean Research